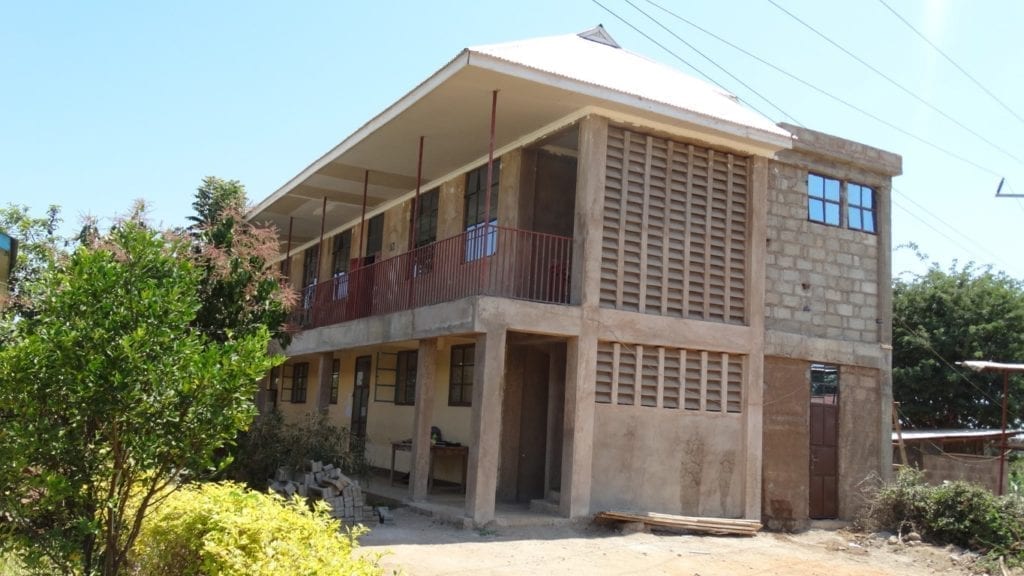 The Hostel Project: Welcome More Women
Young women, in particular, can find a path to independence in the wide range of courses and individual attention that KIWOCE offers.  Lifeskills and health management courses are part of the KIWOCE experience, as are access to reading materials, motivational speakers and an exposure to entrepreneurial ideas and resources.
To accommodate more young women, KIWOCE must complete a second-floor hostel.  Distance and security concerns prevent many girls, who would otherwise reap Kilimahewa's enormous benefits, from attending the Center.
A generous grant from the T&J Meyer Family Foundation and targeted donor support have allowed construction to begin on the Center.  What remains are some finishing electrical, plumbing and painting tasks and the initial furnishings, primarily consisting of bunk beds.
Make January 2019 a new beginning for more girls and young women.  Your donation will allow KIWOCE to expand its reach - changing lives with an active, individualized approach to education that empowers. 
EdPowerment's range of programs offers many giving opportunities for all budgets and intentions. Donors may make a general donation to EdPowerment or target one of our three initiatives or special fundraising campaigns.
All donations are tax deductible: EIN 27-201-7667.
Donations can be sent to
P.O. BOX 641
Saddle River, NJ 07458
Or click the links below to make a secure donation online.
Kilimahewa Educational Center
"Open School"
Tomorrow's Scholar-Leader Sponsorships
Kilimahewa Educational Center:
Serves local villagers across the learning spectrum including youth with special learning needs, teens excluded from formal education, and young adults, local farmers and others seeking English, computer and agri-business skills to become financial secure.
$5-25  price of a review book/text book or other library book

$215 monthly security cost for the water project, property and equipment

$450 -800 monthly salary for a qualified Tanzanian teacher 

$800 cost of the annual Kilimahewa Enrichment Camp that brings US educators and hands-on learning to over 100 village teenagers.
Tommorrow's Scholar Leader Sponsorship Program
EdPowerment currently supports and mentors about 40 students in O level secondary school, A level high school, college certificate and diploma programs, and university degree programs.  Costs vary widely depending on location and other factors as follows:
$1,000-1,800 for a private secondary/high school including fees, personal, medical and other expenses [$100-125 month] 

$1,000-2,000 for a college certificate or diploma course of study. [$83-125 month]

$3,000-5,000 for university studies if a government loan is not secured. These loans can defray up to 60% of costs but are granted in a manner that can not be predicted.
Formerly EdPowerment's special needs program called Autism Connects Tanzania, CAT is now an officially registered Tanzanian NGO. The organization's mission remains (1) to educate guardians, teachers and others who serve individuals with autism and co-occurring conditions, and (2) to advocate for broad-based change in the way Tanzanian society and schools treat this population.
Today CAT is especially targeting vocational programs that address the needs of the autistic population past primary school age.  It actively seeks grant and other funding to help secure its independent role in pushing for systemic change in Tanzania.
For more information on CAT and to learn how to volunteer to support this organization, please visit its website:
If contributing for a specific item within a program, email moiramadonia@edpowerment.org 
to indicate your intention. Specific sponsorships are possible.