This is what was stamped on the loan application denial recently received by the newest member of EdPowerment's Tomorrow Scholar-Leader Sponsorship Program.  I want to share a little of her history.
Mary's story resembles that of many of Tanzania's discarded youth. Her father left her family while she was young and her mother provides for the family by selling vegetables in the local market.  They live in a small, dark, concrete rented room.  Mary, however, stood out from her peers in her ability, seriousness and motivation.
Noting her special character, another small educationally oriented NGO, the Rau Foundation, paid for Mary to attend an excellent private boarding secondary school in her village.  Mary's score on the National Form 4 exam (given at the end of secondary school) qualified her for a government posting to an "A" level school, Forms 5 and 6, sometimes referred to as high school. Rau's founder once again funded Mary's education.  This year, Mary not only graduated from A level studies, but she scored an impressive Division II on the Tanzanian Form 6 National Exam – a score that earned her a University posting!
BUT NOW WHAT?  Mary has no way to pay for college.  Further, there is such a dearth of employment for young people in Tanzania that the idea of working one's way through college is a myth.  So the only recourse for Mary – and all of Tanzania's poorest but talented youth – is to obtain a government loan and somehow scrape together the rest.
Without going into the complex, muddled, and frustrating loan system, the bottom line is that Mary received her response a few weeks ago from Tanzania's Higher Education Students Loan Board:  DENIED:  BUDGET EXHAUSTED. 
How can such a hard-working, capable and promising young woman be returned to her mother's cement room with little or no hope of further advancement after achieving such fine results from Form 1 through Form 6?
EdPowerment welcomes Mary into our sponsored student family.  For the next 3 years, we commit to providing all necessary tuition, fees and personal support so that she can become a professional (she is taking a degree in accountancy) … and build a productive life for herself, her family and her community. 
Pictured here are some of our students working with a Kilimahewa teacher during their break in between semesters… And some of the supplies we send off with our students each semester – just the basics, but everything they need to succeed.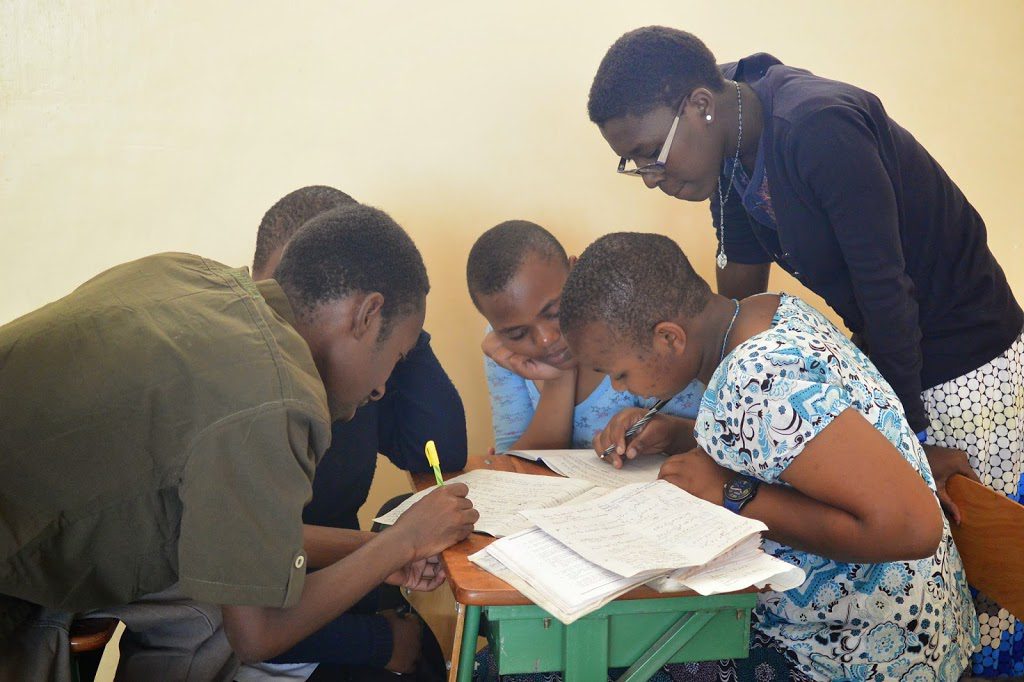 Donor support of EdPowerment's Sponsorship Programs allows our students to GO ALL THE WAY.  Otherwise, secondary and high school degrees can be disheartening, and tragic dead ends – for the student, the community and the country.